Unified Communications, often abbreviated to simply UC, refers to the way different forms of communication tools in the digital workforce interact and collaborate. By unifying phone calls, web conferencing, SMS, and email among others, users are able to share and access data and collaborate in real-time. Whether a large enterprise or small business, the right unified communications solution can take business processes to the next level. Improve on collaboration, boost productivity, increase mobility and enhance the user experience.
There are various communication channels available, here are just a few of the collaboration tools commonly in use:
Telephony (fixed-line, mobile, VoIP-based phone system).
Audio / video conferencing.
Status (show individual contacts to be available, busy or away).
Social media (Twitter, Facebook, Whats App, Instagram, and so on…)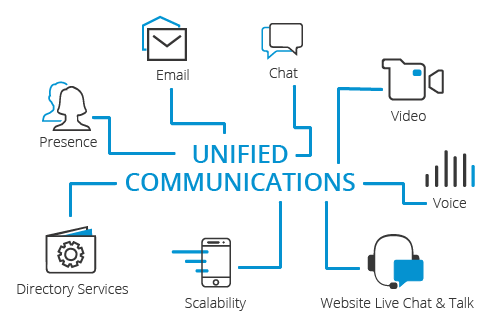 Why choose unified communications?
Unified Communications is a generic hold-all term to describe the market's efforts to integrate all the "apps" (and therefore the communication channels) to allow the user to have all this information easily accessible, irrespective of when or where it is accessed (home, work, in a car, on a train…), or on what device (laptop, tablet, smartphone…) Incoming calls for example, can route to wherever the recipient is, whether at the office, out and about on a mobile phone or working with a web phone from home.
A UC solution effectively blurs the demarcation lines between the communication channels. For example, a user can receive a voicemail message and can choose to access it through email or any phone. The sender's status can be seen through presence information, and if online a response can be sent immediately through text message or video call.
Simply put, the objective of UC Solutions is to unify and streamline business communication, to boost employee efficiency and improve the customer experience
3CX is a single platform unified communications solution that integrates calls with video conferencing, live chat, business text, facebook messaging, status and more. All inbuilt collaboration tools are included as standard both on-premise or as a hosted solution. Use it to:
See the status of colleagues – Eliminate expensive voicemail tags and avoid unnecessary transfers of phone calls that irritate customers.
Deliver faxes & voicemail to inbox – Forward voicemails to inbox and listen to them without calling in. Faxes are received as PDF files in your email.
Live Chat, FB, and Business Texting – Chat with website visitors in real-time! Using 3CX's Facebook integration and text messages for business features, users can manage all messaging channels directly from the 3CX console.
Work remotely with mobile apps – 3CX includes mobile apps for iOS and Android for you to manage calls and video calls while on the go.